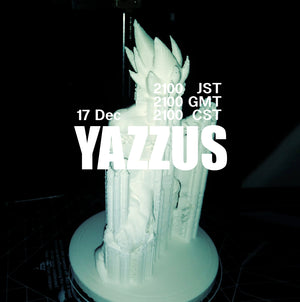 17/12/20 A.B.N. YAZZUS
Today A.B.N. hosts Yazzus broadcasting in three airings at 2100 in Tokyo, 2100 in London and 2100 in New York consecutively.
As a member of London's 6 Figure Gang she has developed a signature style of rave influenced high BPM tracks that have made her a nominee for breakthrough producer by DJ Mag.
With releases on Good Enuff and Femme Culture and with sets across Boiler Room, RINSE and NTS she is accelerating to the forefront of a burgeoning scene.
Highlights include her recent Lab LDN set for Mixmag and her self released Class of 2020.
Broadcasting on affxwrks.com in three time zones
2100 JST / 2100 GMT / 2100 CST
An archive of all broadcasts will be available on the A.B.N. Archive the day after release