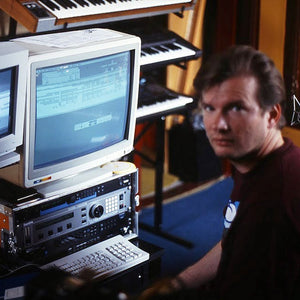 06/01/22 PETE NAMLOOK
This weekend AFFXWRKS present a mix for Goodhood focusing on the life work of Pete Namlook.
Mathilde Andrea Chamboni & Taro Ray curate a selection of tracks from ambient legend Pete Namlook's 20 year discography under his self-run label "FAX +49-69/450464". Fax Label was at the forefront of ambient techno and space trance helping forge the new-school ambient sound.
"Frankfurt, 1990, and a 30-year-old Peter Kuhlmann is walking home from his job at a city center bank. As ever, he has his guitar with him … Pausing for a moment on the bank of the Main River, he removes his guitar from its case and begins to idly pluck. His breezy playing seems to dovetail with the sounds of the passing river. Intrigued, he focuses on this surreal collaboration, and finds himself inspired to play in a freer, truer way. The restless ambient icon Pete Namlook was born here."
FAX: Space, Synths and Superhuman Stubbornness, Joe Madden for Red Bull Music Academy, November 2018
"[Namlook] … would establish his very own label called FAX in 1992. Originally intended for the release of his material, the label gained notoriety for being a no-nonsense imprint which puts out releases of the highest quality. His industrious work ethic coupled with his brave tendencies to venture into unknown areas of electronic music would plant the seed for a very successful career spanning over two decades with dozens of releases and collaborations with the biggest names in the electronic music scene."
Remembering the pioneering artist Pete Namlook and his FAX label, Orb Mag, November 2020
The mix will be available from 1230 GMT this Saturday on goodhoodstore.com