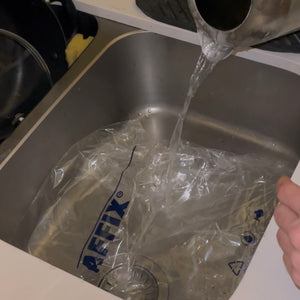 15/04/21 BIODEGRADABLE PRODUCT PACKAGING
Packaging is necessary for products to be stored and delivered undamaged to customers and retailers. Despite modern efforts to recycle packaging, an estimated 8 million tons of plastic ends up in the ocean annually.
To reduce the impact of packaging waste on the environment, AFFXWRKS use an innovative single-use plastic alternative Hydropol™.
Due to the material breaking down rapidly and harmlessly in water temperatures above 70ºC, the consumer can directly dispose of packaging in their own environment using waste boiled water from food or beverage preparation.
Should packaging end up as litter or at landfills it will biodegrade naturally.
Hydropol™
Specially formulated hydrophilic polymer resin which breaks down in marine environments without attracting toxins or forming micro plastics.
Proven to be non-toxic to marine species, breaking down into water, carbon dioxide and mineralised biomass. Ink used is non-toxic and food-safe.
More information on Hydropol™ is available with the developers Aquapak